Interchange Plus Pricing .

With Interchange Plus Pricing, we pass the wholesale interchange and card network fees directly to you. Then, we add our margin to that for providing our services. Hence the name, Interchange Plus. Always receive 100% clarity on all processing costs.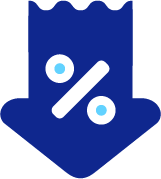 How does Interchange Plus Pricing work?
You get access to wholesale interchange rates. For example, if the interchange fee, plus the card network fee has a combined cost of 1.45%, we will add the PayStrm margin to that to get a merchant's total processing cost. Our merchants always know the PayStrm margin.
$0 Set Up Fees
$0 Monthly PCI Fee¹

$0 Customer Service Fees
$0 Application Fee

$0 Deposit Fees
$0 Quarterly Fees
$0 Cancellation Fees
$0 Batch or Auth Fees

¹ All companies, regardless of transaction volume, must comply with the requirements of the Payment Card Industry Data Security Standard ("PCI/DSS"). If Company has not validated PCI/DSS compliance within ninety (90) days of account approval, or in subsequent years on or before the anniversary date of account approval. Company will no longer be eligible for this discount and will be required to pay the full undiscounted monthly Standard PCI Program Fee of $74.99 /monthly until PayStrm and Elavon are provided with validation of PCI/DSS compliance.